AI to combat nursing churn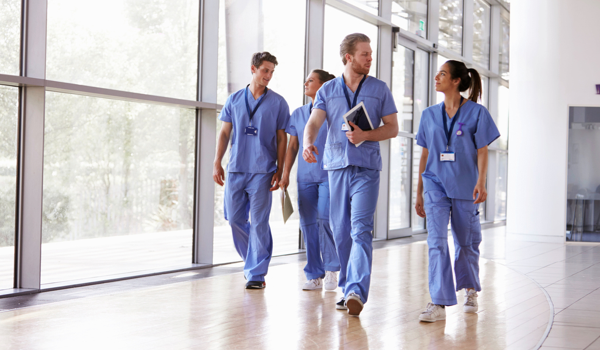 Image courtesy of and under license from Shutterstock.com
Amid the COVID-19 pandemic, nursing has been among the most stress-prone professions and also one of the hardest-hit by attrition. Using AI to identify and address some of the sources of this stress will enable nurses to do their jobs better and more efficiently, keep stress at much more manageable levels and prevent burnout.
BENGALURU - Nursing as a profession is facing extreme rates of attrition, something which has a direct negative impact on the quality, outcomes, and costs of patient experiences.
Hospitals and provider networks across the globe are facing a tremendous staffing challenge due to the increased amount of nursing churn over the past few years during the COVID-19 pandemic. The current levels of turnover of registered nurses (RNs) are burdening hospitals with exorbitant turnover and operational costs. Moreover, RNs almost always work in extremely fast-paced and stressful environments, quickly leading to dissatisfaction and burnout. According to a report, by the end of 2022 four in 10 nurses in the United States plan to find a nursing job elsewhere, and nearly a third plan to leave the field altogether.1
Also, per a report published by the renowned American Hospital Association, there is expected to be a shortage of up to 3.2 million healthcare workers by 2026.2
An article published earlier in 2022 stated that the average cost of turnover for a bedside RN is USD46,100, resulting in losses of USD5.2 million - USD9 million for the average hospital. The average length of time needed to fill a vacant nursing position is 87 days, which can extend well beyond three months for more specialized roles.3 The cost of turnover has a profound impact on diminishing hospital margins, and so managing it must be made a high priority.
Artificial intelligence (AI) applications can be leveraged to combat nurse turnover in various dimensions within clinical, administrative, and operational functions, as outlined below:
- Workload management: AI-powered voice assistance systems can help nurses perform tasks more quickly and keep them on schedule. They also decrease workloads and staffing requirements during night shifts. With AI monitoring devices
The content herein is subject to copyright by The Yuan. All rights reserved. The content of the services is owned or licensed to The Yuan. The copying or storing of any content for anything other than personal use is expressly prohibited without prior written permission from The Yuan, or the copyright holder identified in the copyright notice contained in the content.
Continue reading
Sign up now to read this story for free.
- or -
Continue with Linkedin
Continue with Google