The United Nations is ready to play its part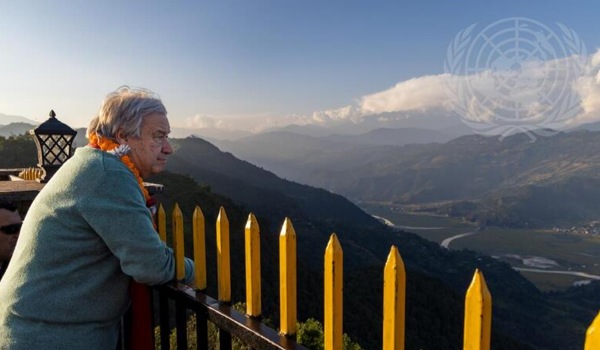 Leading AI nations in attendance have reached a world-first agreement establishing a shared understanding of the opportunities and risks posed by frontier AI. The Secretary-General of the UN comments during day one of the UK AI summit.
LONDON - The speed and reach of today's AI technology are unprecedented. The paradox is that, in the future, it will never move as slowly as today. The gap between AI and its governance is wide and growing. AI-associated risks are many and varied. Like AI itself, they are still emerging, and they demand new solutions.
But let's be clear: They do not demand new principles. The principles for AI governance should be based on the United Nations Charter and the Universal Declaration of Human Rights. We urgently need to incorporate those principles into AI safety.
I see three areas for action.
First, we are playing catchup on today's threats. We need to get ahead of the wave. In the past year, we experienced the release of powerful AI models with little consideration for the safety and security of users.
Every time this happens, it increases the risk that technology will be used maliciously by criminals or even terrorists, that it will undermine security or information integrity, that people could lose control of it, and that it could develop in unintended directions.
We urgently need frameworks to deal with these risks, so that both developers and the public are safe and can have confidence in AI.
The second area for action concerns AI's possible long-term negative consequences. These include disruption to job markets and economies, and the loss of cultural diversity that could result from algorithms that perpetuate biases and stereotypes. The concentration of AI in a few countries and companies could increase geopolitical tensions.
Right now, the vast majority of advanced AI chips are made in one of the most geopolitically sensitive places on earth.
Longer-term harms extend to the potential development of dangerous new AI-enabled weapons, the malicious combination of AI
The content herein is subject to copyright by The Yuan. All rights reserved. The content of the services is owned or licensed to The Yuan. Such content from The Yuan may be shared and reprinted but must clearly identify The Yuan as its original source. Content from a third-party copyright holder identified in the copyright notice contained in such third party's content appearing in The Yuan must likewise be clearly labeled as such.
Continue reading
Sign up now to read this story for free.
- or -
Continue with Linkedin
Continue with Google