Finding the Right Tools for the AI Longevity Job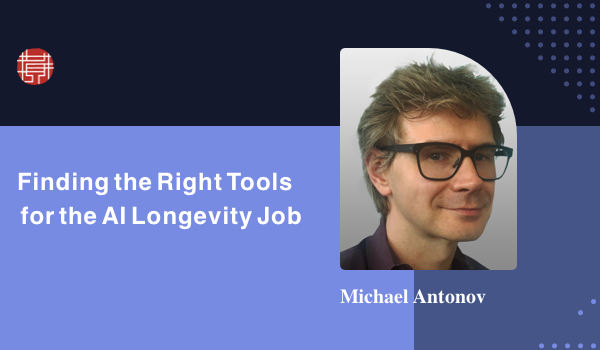 Michael Antonov caught 'the longevity bug' after helping to found Oculus Rift, the virtual reality headgear company, and selling it to Facebook for US$2.3 billion. He went back to college and taught himself biochemistry, and now he invests in startups which are developing tools to allow us to understand the fabulously complex mechanics of our bodies.
LONDON - What is it with Russians? If you throw a ball into the audience during a conference on aging there is a pretty good chance it will be caught by a Russian, or someone of Russian extraction. Michael Antonov attributes this partly to Russia's strong tradition of scientific and technical education, and partly to the emigration of many of Russia's most educated and able people. When these emigrants become immigrants, they bring great skills and determination to their adopted homelands.
Antonov moved to the United States from Russia with his parents when he was 14, two years after Perestroika made such a journey possible. At school and university, he loved programming, and teamed up with a college friend to launch Scaleform, a business developing user interfaces for computer games. Their version of the startup's garage was an old bank with wires hanging from the ceiling. Growth was slow at first, but after eight years they had 30 employees, and they sold the company to Autodesk, a US multinational software corporation.
In June 2012, Antonov and his business partner joined forces with US entrepreneur Palmer Luckey to found Oculus, a California-based company making headsets for virtual reality software. They set themselves the audacious goal of raising US$250,000 on Kickstarter, a crowdfunding platform based in New York, but on day one they took a startling US$1 million worth of orders. Demand was strong, but many technical challenges remained, and Antonov's job was to fix them. Using gyroscopes, accelerometers, computer vision software, and cameras pointing in all directions, they made significant advances in tracking, and reducing latency. It meant long days of hard work, but he has fond memories of those days.
Just two years later, Facebook offered the enormous sum of US$2.3 billion for the business. With the technology still young and challenging, Facebook imposed a lengthy earnout period -
The content herein is subject to copyright by The Yuan. All rights reserved. The content of the services is owned or licensed to The Yuan. Such content from The Yuan may be shared and reprinted but must clearly identify The Yuan as its original source. Content from a third-party copyright holder identified in the copyright notice contained in such third party's content appearing in The Yuan must likewise be clearly labeled as such.
Continue reading
Sign up now to read this story for free.
- or -
Continue with Linkedin
Continue with Google