AI is changing the game and leading to more biotech breakthroughs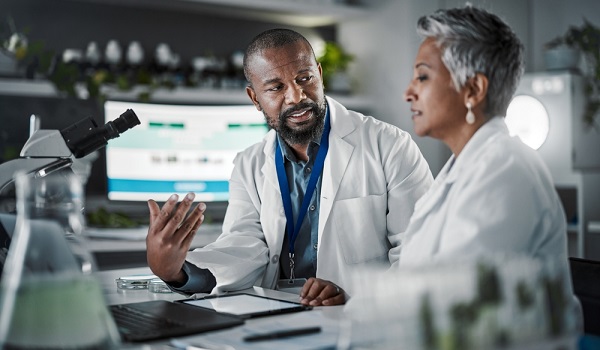 Image courtesy of and under license from Shutterstock.com
Ever since the integration of AI into biotech began in earnest, many advances have taken place at a pace that would have seemed impossible even just a few years ago. This promises to speed up drug development, lower costs, and raise efficiency, among other benefits.
LONDON - The integration of AI into biotech has paved the way for remarkable advancements in drug development and biological understanding. Artificial intelligence (AI) has emerged as a transformative force in the biotech industry, in particular revolutionizing drug development and revealing new biological insights.
The beginning of this transformative era in the biotech industry has been marked by the integration of AI, which has already led to game-changing advancements.1 By leveraging the power of AI, researchers can tap into vast amounts of data, optimize experimental design, and make data-driven decisions to accelerate the discovery and development of novel therapeutics. AI's ability to analyze complex biological data, identify patterns, and predict drug-target interactions makes it possible to understand disease mechanisms in new ways, paving the way for personalized medicine approaches.
The transformative potential of AI in biotech is already reshaping the landscape, offering groundbreaking advancements in healthcare and medicine along with unprecedented opportunities to improve patient outcomes and quality of life. This article aims to provide a thorough examination of the transformative potential of AI by conducting in-depth case studies on two game-changing platforms, Verseon and Insilico Medicine. Additionally, it explores the potential of leveraging Big Data in AI development, the shortage of specialists in the biotechnology industry, and the rating of biotech companies based on their utilization of AI.
Leveraging Big Data to develop AI
In the biotech industry in particular, the availability of vast amounts of data offers significant opportunities for AI-driven breakthroughs. However, the challenge in this lies in the presence of isolated and non-interoperable data lakes. To truly optimize AI dev
The content herein is subject to copyright by The Yuan. All rights reserved. The content of the services is owned or licensed to The Yuan. Such content from The Yuan may be shared and reprinted but must clearly identify The Yuan as its original source. Content from a third-party copyright holder identified in the copyright notice contained in such third party's content appearing in The Yuan must likewise be clearly labeled as such.
Continue reading
Sign up now to read this story for free.
- or -
Continue with Linkedin
Continue with Google