The Yuan AI 2022 - Big Pharma, Big Tech Ally, Double-Team COVID-19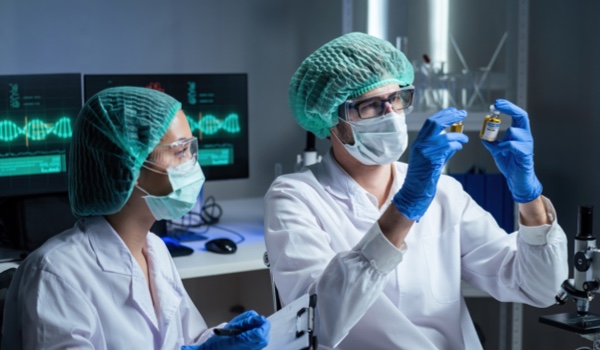 Image courtesy of and under license from Shutterstock.com
The alliance of Big Pharma and Big Tech in the mostly successful quest to develop vaccines to defeat COVID-19 has been one of the most noteworthy events of this year. In the last of the series of articles this week on The Yuan platform predicting the evolution of artificial intelligence in 2022, Ben Armour explores how this marriage has transfigured healthcare, as well as reaping a windfall for both sectors, and forecasts what this union holds in store for 2022.
LONDON - COVID-19 has been a bonanza for healthcare firms as new technologies using computational analyses - artificial intelligence (AI), machine learning (ML), deep learning, computer vision, natural language processing, and natural language generation - have tipped off a whole new ball game in vaccine and drug development.
The salient feature of this brave new world is the marriage of Big Pharma with Big Tech, and rivals cooperating to trump their other competitors, trends that will hold into next year, and beyond.
Pfizer and BioNTech use messenger ribonucleic acid (mRNA) - a single-stranded RNA molecule corresponding to the genetic sequence of a gene read by a ribosome to synthesize a protein - for their shots. Their alliance mixed emerging technologies to deliver the first safe COVID-19 vaccine. Laggards still mulling AI adoption should take note.
COVID-19 lashed pharma into speeding its use of emergent tech in clinical trials, with 136 vaxx candidates in tests and 194 in pre-clinical development, Gavi - the Vaccine Alliance - reported on December 8. With such bruising competition, the Pfizer-BioNTech league was not first by chance.
Early Bird
Cooperation with others was instrumental, as was the digitalization New York-based Pfizer embarked on several years ago for its research and development and AI deployment. This gave it a leg up on rivals and may explain why Pfizer-BioNTech's is the sole jab to have won full approval from the United States Food and Drug Administration (FDA), Politico reported, and is the only shot available for children. The FDA approved the vaccine for kids as young as 12 in May, then dropped this to five in October, enabling the duo to corner the market on the juvenile demographic.
Pfizer applied AI, smart analytics, and automation to hasten and better its drug development
The content herein is subject to copyright by The Yuan. All rights reserved. The content of the services is owned or licensed to The Yuan. The copying or storing of any content for anything other than personal use is expressly prohibited without prior written permission from The Yuan, or the copyright holder identified in the copyright notice contained in the content.
Continue reading
Buy this article for only US$1.99
- or -
Continue with Linkedin
Continue with Google