Baidu Research releases its top 10 tech trends for 2023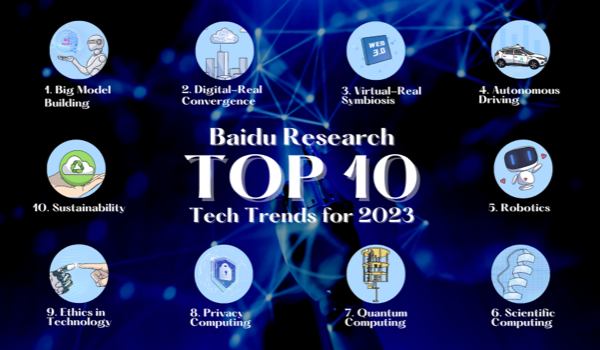 As one of China's most well-established and preeminent tech companies, Baidu is at the forefront of cutting-edge technology and breakthroughs in areas like self-driving cars, robots, and quantum computing. 2023 marks the fourth year Baidu has released its top 10 trends and, in 2023 and beyond, plenty of exciting developments are likely in store for both China and the rest of the world.
BEIJING - Throughout history, the core technologies that drive developmental revolutions and industrial changes are those that have the greatest applicability. When equipped with industrial mass production-ready features like standardization, automation and modularization, these core technologies are able to play an even stronger role, serving as underlying social infrastructure.
As the application threshold of technology continues to come down, and as the effectiveness of applications continues to be enhanced throughout the process, the world grows closer to beginning a new phase of industrial upgrading and social progress.
Today, it is very encouraging to see that such technologies are already being found in real-use scenarios across many different sectors. 2023 marks the fourth consecutive year that Baidu Research has released its top 10 tech trends outlook. Over the past four years, artificial intelligence (AI) has become a founding pillar of technological development, showing more effective direction as large, pre-trained AI models become a new technical cornerstone. The level of intelligence has significantly increased over the past four years as well, showing that there is more room for large-scale applications from industry to scientific research.
Many of the technology predictions that Baidu has released in the past have become a reality in later technical and industrial development, as the world has seen an irreversible trend towards increasing levels of intelligence and confirmed the inevitability of AI becoming more integrated into the real world. Hopefully, this year's top 10 technology trends will continue to help bring clarity about and confidence in the future direction of technological development and innovation.
Baidu's choice of its 10 trends for this year relied on several key considerations:
First, the core foundation of technology continues to solidify.
The content herein is subject to copyright by The Yuan. All rights reserved. The content of the services is owned or licensed to The Yuan. The copying or storing of any content for anything other than personal use is expressly prohibited without prior written permission from The Yuan, or the copyright holder identified in the copyright notice contained in the content.
Continue reading
Sign up now to read this story for free.
- or -
Continue with Linkedin
Continue with Google