Love in the Time of AI(Part III)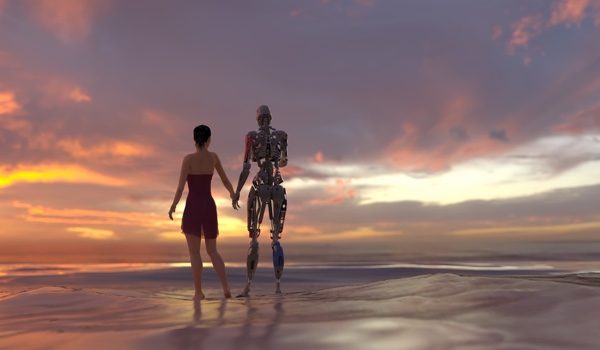 Image courtesy of and under license from Shutterstock.com
The Yuan contributor Ben Armour concludes his trilogy in this the third portion of his three-part series on amorous artificial intelligence. The first tranche in this sequence homed in on sex robots, while the second discoursed on love+AI in the form of chatbots. For this segment, strap on your virtual reality headset, and brace for blast-off as we zoom through the ether with our favorite billionaires hand-in-hand with AI in quest of life eternal.
LONDON - After returning from a junket into space in July, Amazon founder and the world's second-filthiest rich person Jeff Bezos is now on a quest for the Fountain of Youth, having already discovered El Dorado. Bezos has invested in Silicon Valley-based Altos Labs, a hush-hush startup engaged in biological reprogramming to rejuvenate cells in the lab. The company plans to apply the technology to entire animal bodies and, ultimately, extend the human lifespan, industry news platform Pharmaceutical Technology reported on September 16, 2021.
Altos Labs was founded by billionaire entrepreneur and tech investor Yuri Milner early last year. United States scientist Richard Klausner, the 11th director of the US National Cancer Institute and co-founder of both US-based healthcare companies Juno Therapeutics and Grail, has been named its chief executive.
The startup seeks to fend off death by rejuvenating the whole human body at the cellular level using biological reprogramming, a technique discovered in 2006 by scientist Shinya Yamanaka, who will chair the company's scientific advisory board. Adding just four proteins - now known as Yamanaka factors - made cells pluripotent - able to become any cell in the body, Yamanaka's work showed.
The technique reduced cellular and physiological signs of ageing in living mice and extended their lifespan by an average of six weeks in a 2016 study by Spanish biochemist Juan Carlos Izpisúa Belmonte, who is also set to join Altos Labs. Izpisúa Belmonte touted cellular reprogramming as the "elixir of life," per the report.
The new firm, incorporated in the US and in the UK last year, will set up institutes in the San Francisco Bay Area, San Diego, Cambridge, UK and Japan, and is enlisting a large number of university researchers with extravagant salaries and the chance to conduct no-holds-barred research on how cells age and how to counteract the process, the news platf
The content herein is subject to copyright by The Yuan. All rights reserved. The content of the services is owned or licensed to The Yuan. Such content from The Yuan may be shared and reprinted but must clearly identify The Yuan as its original source. Content from a third-party copyright holder identified in the copyright notice contained in such third party's content appearing in The Yuan must likewise be clearly labeled as such.
Continue reading
Sign up now to read this story for free.
- or -
Continue with Linkedin
Continue with Google