AI adjudication, legislation around the corner as 'legal singularity' looms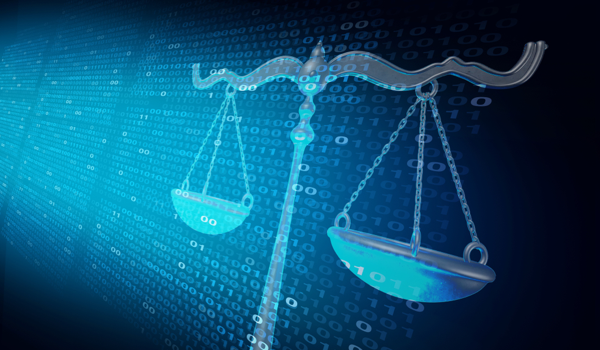 Image courtesy of and under license from Shutterstock.com
The 'legal singularity' refers to the law becoming a solved problem, with machines able to predict the outcome of any potential lawsuit such that no cases ever reach court. Best-selling AI author Calum Chace cites law professor Ben Alarie to describe the implications of all this.
LONDON - The law is a promising area for artificial intelligence (AI), which is in part because the technology has had relatively little impact on it thus far - the legal profession is rarely accused of being at the cutting edge of technological development. While lawyers are no longer using quill pens, they are not exactly famous for their information technology skills, either.
Nevertheless, the legal profession has several characteristics which make it eminently suited to the deployment of advanced AI systems. Lawyers are deluged by data, and commercial law cases can be highly lucrative.
One man who knows more about this than most is Benjamin Alarie, a professor at the University of Toronto Faculty of Law and a successful entrepreneur. In 2015, he co-founded Blue J, a Toronto-based company which uses machine learning to analyze large amounts of data to predict a court's likely verdict in legal cases. It is used by Canada's Department of Justice and its Revenue Agency.
Alarie just published The Legal Singularity: How Artificial Intelligence Can Make Law Radically Better. He also recently joined my London Futurists Podcast to discuss the future of AI in the legal profession.
Automation
One way in which AI is impacting the law is automation. Traditionally, a lot of legal work was repetitive and robotic. Junior lawyers working on transactions and on litigation spent days cooped up in 'deal rooms,' working their weary way through piles of boxes and looking for the word or phrase in a document that could undermine a deal or clinch a lawsuit. This process is known as 'discovery' in the United States and 'disclosure' in the United Kingdom. Machines excel at such close analysis of huge volumes of text, and much of this work has already been automated.
For a human lawyer, it would take days to identify and
The content herein is subject to copyright by The Yuan. All rights reserved. The content of the services is owned or licensed to The Yuan. Such content from The Yuan may be shared and reprinted but must clearly identify The Yuan as its original source. Content from a third-party copyright holder identified in the copyright notice contained in such third party's content appearing in The Yuan must likewise be clearly labeled as such.
Continue reading
Sign up now to read this story for free.
- or -
Continue with Linkedin
Continue with Google