Nigerians in the age of AI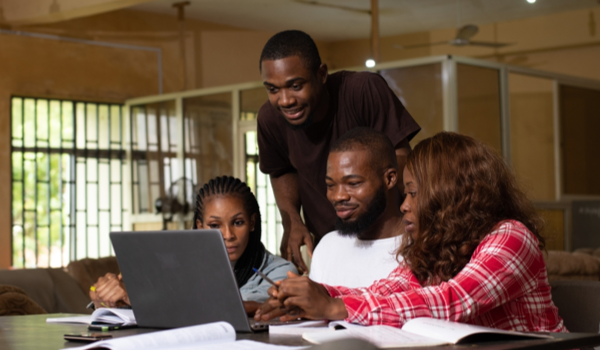 Image courtesy of and under license from Shutterstock.com
As AI is ever-more integral to daily life it is now no novelty even in the most-remote countries. Despite this ubiquity, many Nigerians remain wholly unaware of the potential impact of AI on them and on society in Africa's most populous country, ML engineer Gift Kenneth explains.
PORT HARCOURT, NIGERIA - With recent developments such as Open AI's ChatGPT and other popular artificial intelligence (AI) tools like Lensa AI Stable Diffusion and DALL-E that have recently made headlines, Nigerians are now more interested in AI than ever before.
AI - once just a buzzword confined to technology professionals and enthusiasts - is now a known concept for anyone who has a smartphone and internet access, thanks to the growing accessibility of digital tools. Nigerians currently hold a wide range of opinions on AI, ranging from skepticism, awe, and fear to overestimating its capabilities. Google recently released a search trend showing that Nigerians are increasingly interested in AI, which already has many well-known beneficial applications in society, and this article will look at how Nigerians take advantage of these new opportunities.
Current state of Nigeria's AI
AI in healthcare
Nigeria's National Institute for Pharmaceutical Research and Development (NIPRD) has urged the country's health sector to adopt AI to enhance the delivery of healthcare. This led to the launch of NIPRD's AI laboratory, which is designed to support the development of interventions to improve healthcare practices and workflows. Health technology startups in the private sector, such as Ubenwa, also offer AI-powered software for the early identification of neurological and respiratory conditions in infants through cry analysis technology. Another startup, HelpMum, uses AI for vaccine intervention to tackle maternal and infant mortality. Startups like these are already making significant strides in the healthcare sector with their AI products.
Language preservation
AI is also making a difference in lan
The content herein is subject to copyright by The Yuan. All rights reserved. The content of the services is owned or licensed to The Yuan. The copying or storing of any content for anything other than personal use is expressly prohibited without prior written permission from The Yuan, or the copyright holder identified in the copyright notice contained in the content.
Continue reading
Sign up now to read this story for free.
- or -
Continue with Linkedin
Continue with Google