Chess and geopolitics in the era of the supercomputer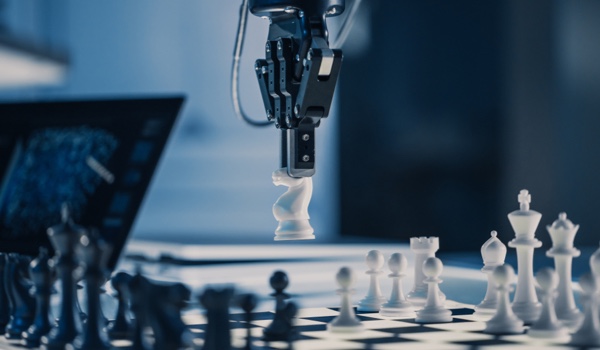 Image courtesy of and under license from Shutterstock.com
At first glance, chess, supercomputers, and geopolitics would appear to have little in common, but given the increased popularity of chess - both online and offline - during the pandemic and the increased use of technology in the game, including the use of supercomputers for both practice and actual tournaments, the winner and loser of next year's world championship match could very well reveal something about the level of technological advancement of the countries represented.
CAMBRIDGE – For centuries, chess has been a metaphor for war in myth and in literature. In the next world championship match, which will take place in 2023 between Russia's Ian Nepomniachtchi and China's Ding Liren, the comparison may be more apt than ever, with the outcome likely to be decided as much by superiority in multipurpose supercomputing as by individual human ingenuity in chess. While the Russian military's dismal early performance in Ukraine hardly suggests an ability to benefit from artificial intelligence in warfare, China is the real deal on that front.
The match between 'Nepo' and 'Ding,' as the chess world calls them, has materialized because the world number one and defending champion, Magnus Carlsen of Norway, has decided that, having won the world title five times - not always easily - since 2013, he is now ready to step down at age 31 (Nepo is 32 and Ding is 29).
Nepo, who, like many Russian athletes, must forgo the Russian flag to compete internationally, has spoken out clearly against the Ukraine war, and was one of 44 leading Russian chess players who signed an open letter to President Vladimir Putin in early March. "We are against any military action on the territory of Ukraine and call for an immediate ceasefire and a peaceful decision to the conflict through the path of dialogue and diplomatic negotiations," they wrote. "For us, it is unbearably painful to see the catastrophe that is happening these days with our people."
Few commentators or top players exp
The content herein is subject to copyright by Project Syndicate. All rights reserved. The content of the services is owned or licensed to The Yuan. The copying or storing of any content for anything other than personal use is expressly prohibited without prior written permission from The Yuan, or the copyright holder identified in the copyright notice contained in the content.
Continue reading
Sign up now to read this story for free.
- or -
Continue with Linkedin
Continue with Google