The COVID-19 Calculator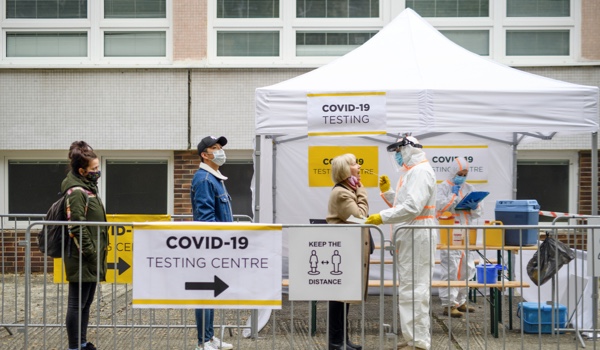 Image courtesy of and under license from Shutterstock.com
With the evolving nature of the COVID-19 pandemic, along with seemingly ever-changing recommendations, restrictions, and government guidance, trying to assess one's own personal level of risk at any given time or location can be confusing. Now, with the development of the COVID-19 calculator, people finally have a tool to cut through all the uncertainty and determine their own risk of infection accurately and flexibly.
CALIFORNIA - As the COVID-19 pandemic has evolved, the public has relied on government agencies such as the Centers for Disease Control and Prevention to provide clear science-based recommendations. This was and still is a challenging task and, as new variants emerged, treatments improved and preventative measures like vaccines became widely available - the evidence shifted, making policy recommendations a moving target.
The changing nature of these public health policies has sown confusion, and even mistrust. Overall guidance has been vague, with decisions often seemingly made on economic grounds, as opposed to public health ones, e.g., the decision to shorten the quarantine period in the United States from 10 to seven and then finally to five days, allowing individuals to return to work sooner despite leading evidence which shows people are usually infectious for at least 10-14 days, and in severe cases, up to 21 days. Masking guidance has been confusing as well, particularly because, in the US, states and local authorities all have the power to enact widely varying mask requirements depending on location and differing case density levels. This leaves the public with little choice but to make many decisions for themselves, a task both daunting and impractical.
Every individual's risk level is different, and each has vastly different personal risk factors which may or may not predispose one to severe disease, but reliable personalized guidance on risk levels, which would enable a better understanding of how to behave for self-protection as circumstances shift is lacking. This is why I created the Dunphy-COVID-19 risk calculator. It not only predicts individual risk levels, but also delivers targeted guidance for keeping high-risk individuals safe.
The calculator is intended to predict the probability that an individual will become seriously ill and experience adverse health effects if infected with the COVID-
The content herein is subject to copyright by The Yuan. All rights reserved. The content of the services is owned or licensed to The Yuan. Such content from The Yuan may be shared and reprinted but must clearly identify The Yuan as its original source. Content from a third-party copyright holder identified in the copyright notice contained in such third party's content appearing in The Yuan must likewise be clearly labeled as such.
Continue reading
Sign up now to read this story for free.
- or -
Continue with Linkedin
Continue with Google