Open Medical Data - A fairytale or the future?
Delta Dialog | Dec 09, 2022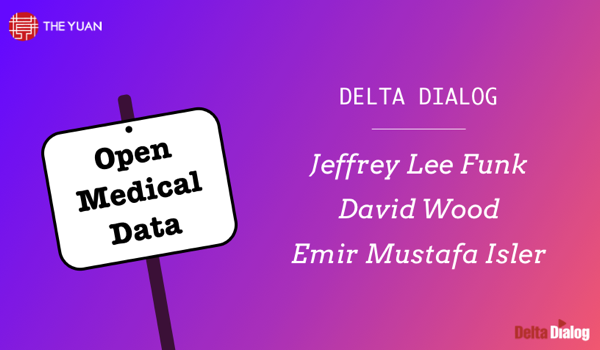 This second episode of the Delta Dialog deals with a very different perspective on open medical data than the first session, namely the difficulty of the challenges to be overcome. These are data quality, utility of AI within open medical data, policy, funding, and human capital.
ISTANBUL -
Challenges facing Open Medical Data?
"I had become a pessimist in the late 2010s" is how technology expert Jeffrey L. Funk described his mindset toward new tech due to the developmental failures of the industry during his time.
The idea of open medical data is a good one, according to Funk, but when it comes to the application and the age-old question of quality versus quantity things get complicated. Openly sharing data in a world that emphasizes personal data, and furthermore, ensuring that the quality of the data being shared meets certain standards is essential for contributing to such an undertaking. On the other hand, openly sharing does not only apply to data, but also to the algorithms used to bring order to accumulated data so that the process becomes more understandable.
What's in it for me? Why should I care?
Reaping the full benefits of open medical data may take a lot more time than one might think. The human capital that inputs data has to follow a set of rules, and this must be done in an appropriate way. Hospitals and other institutions like pharmaceutical companies and insurance companies have to provide input as well for open medical data to work the way it is meant to.
David Wood, chair of London Futurists, compares this to paying taxes, "None of us really likes paying taxes and we feel like we're the only ones contributing, but when we have the confidence that everybody is pitching in their fair share we say, yeah, these taxes are good because it enables the government to do things which the free market wouldn't do by itself." Thus, regulatory bodies and good policies can bring open medical data a long way ahead.
Policy, cleaner data are key to open medical data's success
Global policymakers must become more engaged with open data and learn about the details of AI to push open medical data more efficiently and successfully. This will likely happen first at the local level, Funk said, especially in regions where people have more confidence and trust in their regulatory bodies, since sharing data requires regulations and trust. Once spread locally, it may expand to a more global scale. Moreover, getting medical firms to clean and share data is particularly important for an effective open medical data ecosystem.
Further Reading:
- Open access: independent testing, incentives are needed for high-quality data
- AI's Slow Adoption Jibes With Former Failures
- AI Startups Are Doing Poorly, as Is AI Overall
Please feel free to share your thoughts on this story