Cambridge launches first-ever Cam Tech Week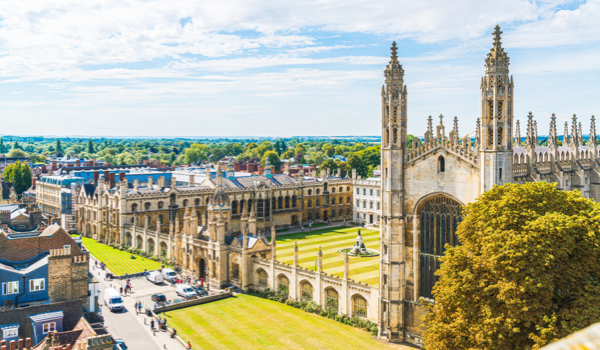 Image courtesy of and under license from Shutterstock.com
This article is the first in a series on Cambridge and UK organizations that are innovating in healthcare by using AI technologies. It introduces Cambridge, UK and its thriving entrepreneurial ecosystem grounded in cutting-edge research and connected to finance and other support.
CAMBRIDGE, UK - Cam Tech Week (CTW23) will run from May 8 to May 12, 2023, and is aimed at entrepreneurs, founders, corporate leaders, investors, media, governments, academia, and international peers.
What is the Cambridge phenomenon?
First, one should take a step back and understand why Cambridge in the United Kingdom is considered by many as the most successful life-sciences cluster in Europe.
"Very quietly I take my leave/As quietly as I came here/Gently I flick my sleeves/Not even a wisp of cloud will I bring away." When Chinese academic scholar Xu Zhimo wrote these iconic lines in 1928, Cambridge was an ancient seat of learning, and clouds were masses of water suspended in the sky. That was also three years before Alan Turing came up to Cambridge to study mathematics, and 22 years before Turing published his paper 'Computing Machinery and Intelligence,' a precursor to artificial intelligence (AI) as a research field, which was officially founded at a workshop at Dartmouth College in the United States in 1956.
A few decades after that the Cambridge Phenomenon was born. Nicknames like Silicon Fen and the Cambridge Cluster acknowledge how a small, historic city has become the center of technological innovation. The decision made by AstraZeneca in 2013 to set up its headquarters in Cambridge in 2016 helped deliver a greater focus on medical innovation. This was motivated by the desire to build on its partnership with the University of Cambridge and other local research institutions, hospitals, and businesses.
In 'The Next Generation of Tech Ecosystems' report, Cambridge is showcased as the top university in the world for producing successful tech founders: 505 of its alumni founders have raised over USD 10 million, ahead of both Harvard and the Massachusetts Institute of Technology in Cambridge in the US (499) as well as
The content herein is subject to copyright by The Yuan. All rights reserved. The content of the services is owned or licensed to The Yuan. Such content from The Yuan may be shared and reprinted but must clearly identify The Yuan as its original source. Content from a third-party copyright holder identified in the copyright notice contained in such third party's content appearing in The Yuan must likewise be clearly labeled as such.
Continue reading
Sign up now to read this story for free.
- or -
Continue with Linkedin
Continue with Google