An automated machine learning COVID-19 pipeline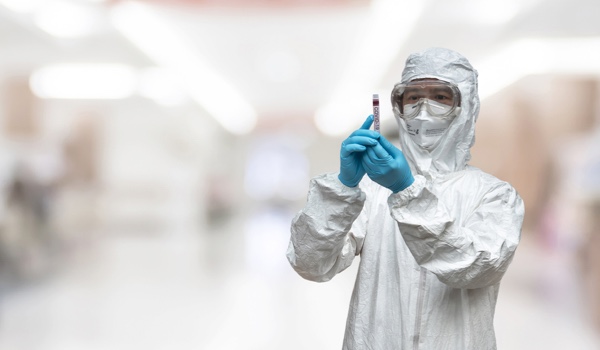 Image courtesy of and under license from Shutterstock.com
Researcher Parisa Naraei details how AI chatbots glean better data and attain fuller analyses, faster insights, and precision answers in the war against COVID-19 and relates the nuts and bolts of crafting these conversational AI apps.
TORONTO -
1. Abstract
A chatbot is an artificial intelligence (AI) software that simulates a conversation - or a chat - with a user in natural language through messaging applications, websites, mobile apps or over a telephone.
There are several types of chatbots, such as button-based, rule-based, recognition-based, self-learning, and voice bots. In this paper, various methods, and libraries, including Sci-kit Learn, Matplotlib, Word Cloud, Pandas, natural language processing toolkit, and Flask have been adopted to explore, analyze, and prepare data, and build, test and deploy a model, the best of which, with 88 percent accuracy, predicts users' symptoms and answers their queries. Two engines are built, defined as Engine One for symptom prediction, and Engine Two for COVID FAQ.
2. Introduction
This is a rule-based chatbot for the novel coronavirus (COVID-19) based on frequently asked questions (FAQ) from the World Health Organization (WHO). The WHO provides answers to FAQ about the coronavirus. Since the virus that causes COVID is still changing due to its frequent mutations, and because the scientists studying it are still learning about it, it can be challenging to find consolidated and reliable information. The WHO COVID dataset available in the GitHub repository is thus the one this project selected.
2.1 Workflow COVID-19 chatbot - symptom prediction
This section is dedicated to the application of the chatbot and how it works behind the scenes. Everything begins when
The content herein is subject to copyright by The Yuan. All rights reserved. The content of the services is owned or licensed to The Yuan. Such content from The Yuan may be shared and reprinted but must clearly identify The Yuan as its original source. Content from a third-party copyright holder identified in the copyright notice contained in such third party's content appearing in The Yuan must likewise be clearly labeled as such.
Continue reading
Sign up now to read this story for free.
- or -
Continue with Linkedin
Continue with Google