One Small Step for AI, One Giant Leap for The Yuan in the Healthcare Metaverse
By Telum Media | Jan 31, 2022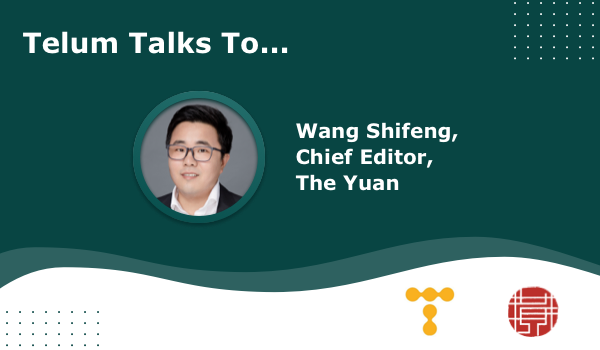 The Yuan founder, and Chief Editor, Shifeng Wang shares his vision of artificial intelligence in the healthcare industry with Telum Media, and how it will shape the medical sector in the future.
SHANGHAI - The Yuan aims to create an international community in the artificial intelligence (AI) medical industry and invites contributors from all over the world to join the community. What's the rationale behind this?
Shifeng Wang: The community concept comes from the thinking that rationality does not always find its place in the world of public opinion. "Globalisation" is constantly being challenged, and the Internet is filled with prejudice, hatred, and lies. Rational voices are hard to be heard and to be expressed, which is obvious in the data-driven world of social media. We want to change all that. In the blossoming era of AI, we hope to build an open community where every opinion will be respected.
We also find AI, as much as the previously invented technologies, should be for everyone, not just for specific groups. I hope that The Yuan can convey rational voices on what AI means. AI should bring warmth to both developed and developing countries. We also hope to improve the social awareness of AI.
All of our content comes from contributors located around the world. Thanks to the resource network of Evomics Medical, the parent company of The Yuan, we have been able to invite well-known commentators, policymakers, and even Nobel Prize winners to be our writers. They form an important part of our international community.
The Yuan was founded in 2021. Is this related to the challenges posed by COVID-19 for the medical industry?
Shifeng Wang: The pandemic has given us time to reflect on the past and look to the future. While there are many tragic aspects to the pandemic, we have also witnessed positive changes brought about by the power of technology in this
The content herein is subject to copyright by The Yuan. All rights reserved. The content of the services is owned or licensed to The Yuan. The copying or storing of any content for anything other than personal use is expressly prohibited without prior written permission from The Yuan, or the copyright holder identified in the copyright notice contained in the content.
Continue reading
Buy this article for only US$1.99
- or -
Continue with Linkedin
Continue with Google